What. A. Week. Last week is a blur, but man there was a lot in the midst of that blur. Wagon Wheel, Innoskate in DTSF and multiple Levitt concerts are all in the rear-view mirror. But we aren't done yet! The Summer of 2022 is shaping up to be one of our busiest Summers ever and we are so glad you are joining us along this ride! We are starting this week off with a little bit of a pivot, so please pay attention… There will be NO Cocktails for Cars event in JJ's parking lot today (Tuesday, July 12th). We are hosting a private event for a good friend of JJ's (Stifel Financial) under the big tent in the North parking lot. JJ's Bar will be open to the public, but with a limited menu as we are assisting in the food service for the private event. We will be back to normal tomorrow with a very special, and rescheduled Whisk(e)y Wednesday!
Whisk(e)y Wednesday – Pardi Batch Spirits Signed Bottle Release and Tasting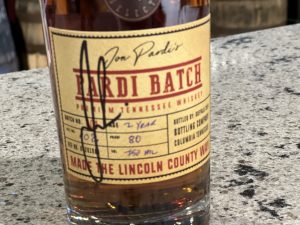 We were supposed to release these bottles of Pardi Batch Spirits Tennessee Whiskey and 112 Proof Bourbon a couple of weeks ago ahead of the JJ's Whisk(e)y & Wine Experience at Wagon Wheel, but the whiskey ended up in Vancouver! Well, long story short there were some shipping issues, but the whiskey is here now. It actually arrived ahead of the show on Friday, so we were able to get a couple of dozen bottles signed by Jon Pardi. Those bottles will go on sale tomorrow (Wednesday) at NOON! First Come, first served. Limit of one per customer. Along with that, we will be offering a feature flight with the two Pardi Batch Spirits Whiskies along with two comparative whiskies that have yet to be determined. Should be a fun flight, and we will have a bottle raffle with the following up for grabs…
Caribou Crossing Single Barrel Canadian Whisky – South Dakota Select Barrel
Jacob's Bardon Whiskey Batch #2
Larceny Barrel Proof C-921
Sazerac Rye (Baby Saz)
Buffalo Trace Single Barrel – 10th Edition
Yellowstone 115 Proof Single Barrel – JJ's 1st Edition
How do you get into the raffle? Be at JJ's Bar by 5:45pm on Wednesday! You get one entry just by showing up, and you will get a total of FOUR entries by purchasing this week's feature flight. Earn an additional TWO entries by purchasing a food item!
This week Kaleb is featuring Tacodillas! Two cheddar quesadillas folded to hold a bed of honey lime coleslaw and your choice of protein and a drizzle of jalapeno lime creme. Protein available is Smoked chicken, marinated beef or shrimp.
It's also Whisk(e)y Wednesday every Wednesday in JJ's Wine, Spirits & Cigars! ALL spirits are 30% off, and it does not matter how much you purchase! Reach for the top shelf and grab the good stuff!
SOUTH DAKOTA'S LAZIEST RACE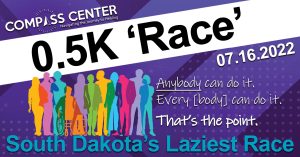 This weekend we are having a whole lot of fun in our parking lot. JJ's Bar will open early at 10:00am for Bloody Mary's and Mimosas. Can't think of a better way to start South Dakota's Laziest Race! An annual fundraiser for my friends at The Compass Center featuring a .5K "Race" around our parking lot, stops along the way "JJ's Style" and finishing with drinks, food and LIVE music from Elisabeth Hunstad (2:00pm to 5:00pm) and Chris Sandvig (5:00pm to 8:00pm). Visit the Facebook Event Page for more information and purchase tickets. – https://fb.me/e/eQNqm94eN – If you can't make it, please consider a donation to The Compass Center. They do some pretty remarkable work in our community.
Our friends from South Dakota Highland games will also be putting on a throwing demo in the lot behind us, so plenty of things to do on what looks to be a toasty Saturday!
Silver Oak Alexander Valley Release Event
Mark your calendar for Wednesday, August 10th! We will, for the first time in two years, be hosting the South Dakota release event for Silver Oak Alexander Valley Cabernet! This event will take place in JJ's Event Room and will be limited to 60 guests. Our culinary team is putting together a delightful menu that will include a grazing table, hot and cold appetizers and of course, desserts from The Boozy Bakery! We will be sampling the newest vintage of Silver Oak Alexander Valley Cabernet along with some other fun wines from Silver Oak and Twomey Cellars. The cost for this event is $100 per person. Tickets will go on sale on jjswine.com next week!
That's it for today! I hope you have a great week! Let us know what we can do to make it that way!
Tom