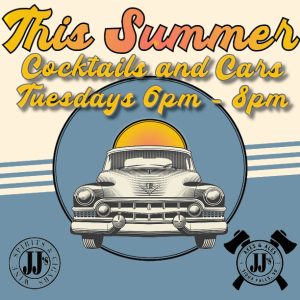 Welcome to a new week! Last week was so much fun. In case you missed it, we hosted South Dakota's Laziest Race "The .5K" here on Saturday! We managed to get everything wrapped up before the rain came, and wow, did everyone have a great time! We are so looking forward to growing this event on our island and doing some solid fundraising for our friends at The Compass Center! Thanks to everyone that helped put this event on!
COCKTAILS & CARS RETURNS!
We took last week off for a private event, but Cocktails & Cars returns tonight! Starting around 5:00pm, the North parking lot will be blocked off. Anyone with a classic, customized or collectible car, truck or motorcycle is welcome to bring it down and show it off! We will have drink specials, food specials and LVIE MUSIC from 6:00pm to 8:00pm with Micah Wetzel! The weather is looking cooperative and not blistering hot, so we expect to have a decent sized crowd. We are also having some fun over at JJ's Axes & Ales tonight… $10 for 10 Throws and Buy One Get One Half price brews from 5:00pm to 9:00pm!
SILVER OAK RELEASE EVENT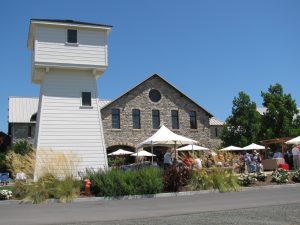 On Wednesday, August 10th, 2022 we will be releasing the 2018 Silver Oak Alexander Valley Cabernet! Every year the wine is released at the winery on the first weekend of August. And every year for the past few, we have been the official launch spot for the state of South Dakota the following week! Here is a link to the event on our website. See more information and purchase tickets – https://jjswine.com/store/6891199/ – I encourage you to purchase your spot soon as we will run out of space! Attendees will be the first to try the new vintage, and more importantly purchase!
Update, this event is filling up fast! I would recommend purchasing a ticket ASAP!
WHISK(E)Y WEDNESDAY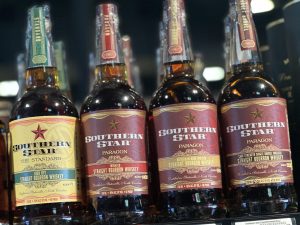 Tomorrow is Whisk(e)y Wednesday! All Spirits are 30% off List Price, and it doesn't matter how much you purchase! Did you know this is the same discount you get when you purchase 6 items in the same category every day of the week?
Our feature flight this week is Southern Stars Whiskies. We will be tasting four whiskies in all… High Rye Bourbon, Wheated Bourbon, Bottled In Bond and Single Barrel. We sampled these products a few months ago and were very excited about their arrival. We will also be doing a single barrel selection with them in the near future! Purchasing the feature flight also gets you extra chances into this week's bottle raffle. Here is what is up for grabs…
Weller Special Reserve
Blanton's Single Barrel Bourbon
Elijah Craig – JJ's Single Barrel 2nd Edition
Caribou Crossing Canadian Single Barrel – South Dakota Select
Buffalo Trace Single Barrel – JJ's 10th Edition
As I mentioned you get EXTRA chances by purchasing the feature flight, but the raffle is free to enter just by being here at JJ's by 5:45pm on Wednesday!
That's it for today! I hope you have an awesome week!