Good morning! I hope you had an awesome weekend. After we wrapped up another busy weekend, we took some time on Sunday to go watch a couple of our guys play baseball! Jett (Retail and Bar) and Garrett (Kitchen and Barback) both play baseball for the Renner Monarchs. We took a little road trip North on Sunday to watch them beat the other Renner team. We had a ton of fun, and the weather couldn't have been more perfect. Next up for the guys is the state tournament in Aberdeen then in Mitchell for the second round. Not sure we will get to watch, but we will be there in spirit!
Cocktails & Cars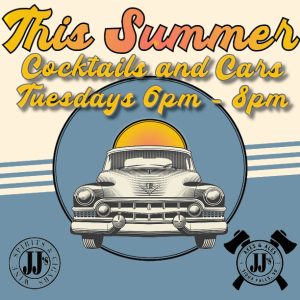 Looks like the weather isn't going to be too cooperative tonight, but if there is a break in the rain, stop in for some cool cars and cool tunes with James Dean! The parking lot will be blocked off starting at 4:00pm, so feel free to bring your ride down any time after that. We will have Buy One Get One Half off Craft Beers and $2 off all pizzas and pretzel bites! LIVE MUSIC starts at 6:00pm!
We are looking for anyone with a collectible, classic or customized vehicle to bring it down to show off! We have a great lot for this kind of activity and love giving people the opportunity to share their enthusiasm for cool cars, trucks and motorcycles!
Whisk(e)y Wednesday
Tomorrow is Wednesday, which means Whisk(e)y Wednesday at JJ's! A weekly party celebrating all fine spirits by offering our best discount on ALL spirits ALL day long! 30% off the List Price of any bottle in the store with no quantity purchase required! (However, there is another special offer… be sure to keep reading to the end) This is a great time to reach for the top shelf! It's also a great time to grab a flight in JJ's Bar as all flights are HALF PRICE! Wisconsin and Michigan don't play each other in football this year, so we decided to pit the two states against each other in a feature flight! We will be featuring two whiskies from Driftless Glen Distillery out of Wisconsin, and two whiskies from Journeyman Distillery out of Michigan. Wear your school apparel if you are a fan of either team and you will be given an extra chance in this week's bottle raffle! Speaking of this week's raffle, we have a couple of fun things to offer…
1792 Full Proof Single Barrel – JJ's 8th Edition
1792 Full Proof Single Barrel – JJ's 9th Edition
Yellowstone Bourbon Single Barrel – JJ's 1st Edition
John J Bowman Single Barrel Bourbon
Blanton's Single Barrel Bourbon
Sazerac Rye Six-Year-Old
Getting in our bottle raffle is super easy. Just show up to JJ's Bar before 5:45pm on Wednesday and fill out a raffle ticket! Your first entry is FREE and you get additional entries by purchasing our feature flight and/or buying food to enjoy while you sip your whiskies! You can earn a total of up to SIX entries, plus the bonus entry if you wear Wisconsin or Michigan apparel!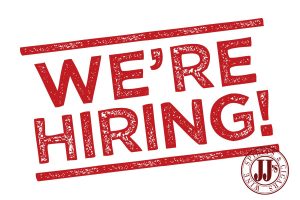 Speaking of food. Our kitchen is open offering our full menu at 3:00pm every Tuesday-Thursday, and NOON on Friday & Saturday. But we have started offering a limited lunch menu when we open the bar at NOON Tuesday-Thursday to give you a little something to nibble on while you escape work for an hour. Pizzas, dips and the most awesome Chicken Salad Croissant sandwich on the planet. Stop in and check it out!
Also speaking of food. One of our kitchen cohorts, Landon, is moving on to a pretty solid opportunity and we need to fill his shoes! We are now taking applications/resumes for a Sous Chef position. Please click here for more information or to download an application – Job Opportunities | JJ's Wine, Spirits & Cigars (jjswine.com) – We look forward to you growing with us!
Beverage Dynamics Top 100 Retailers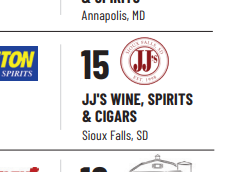 Earlier this month, I announced our position on the list of Top 100 Retailers had been retained at #15 on the national list of top adult beverage retailers in the US! We are humbled and honored to represent the state of South Dakota and the Community of Sioux Falls on this esteemed list of nationally recognized adult beverage retailers. Big thanks to our peers at Beverage Dynamics for recognizing what we do here on our island in little old Sioux Falls, South Dakota. See the whole list here – https://beveragedynamics.com/digital-archives/digital-edition-june-2022/
Bigger thanks to our team here at JJ's Wine, Spirits & Cigars for buying in to what we are doing here! We all know we don't "just sell booze" but that we have an impact on people's lives every day in everything we do here at JJ's Wine, Spirits & Cigars, JJ's Events, JJ's at the Levitt, JJ's Axes & Ales and The Boozy Bakery.
The #1 spot is always in our sites, and we know we have a lot of really strong retailers ahead of us, but we feel that we have the right formula to reach that level. We know you are a large part of that, so we have an extra special offer for tomorrow's Whisk(e)y Wednesday… a bonus discount of 15% off any spirits items when you purchase SIX or more to celebrate our #15 ranking! This is one day only, Wednesday 7/27/2022. That's 35% off the List Price of any spirits items in the store when you purchase six or more. What the heck, let's throw wine in there too! 35% off the List Price of SIX wines or more! (You must purchase SIX wines OR SIX spirits, not a combination of the two.)
That's it for today! I sincerely hope this week's newsletter finds you well and happy. If there is anything we can do to help with that, please let us know! Have a great week!