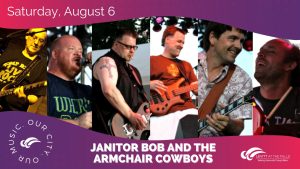 Welcome to August! Wow is it hot today! We are still having our Cocktails & Cars event this week, but we don't expect a huge turnout, so maybe just pop in for a bite and a beverage! We will still have live music (inside) featuring the music of Tony DePaolo. Beers are still buy one, get one half price and pizzas are still $2 off! Next week will be our final Cocktails & Cars for the Summer! Elisabeth Hunstad will be here to close out the year, and hopefully it's not a scorcher so we can have a good turnout!
What a weekend! We had over 10,000 people at Levitt for the Brule concert! It was an amazing night and very busy at JJ's Bar at the Levitt! Our team performed exceptionally well as we keep evolving our service platform to serve you better! Janitor Bob and the Armchair Cowboys is coming up this weekend on Saturday! We are super excited about this concert too, so to cap the night… we are having a parking lot party at JJ's!
Post J-Bob Parking Lot Party
After the Levitt concert on Saturday, we will be hosting a parking lot party here at JJ's! We will have DJ music playing the best of the 80's & 90's plus late night eats from Black Iron Waffles! We can't keep our kitchen open because our chef, Kaleb, will be the DJ! For those who don't know, in his spare time, Kaleb DJs for Pinnacle Productions. This will be a lot of fun, and a great time to catch up with old friends and reminisce about old days when we used to party in this very spot, when there was nothing here. Party will start at 10:00pm and we will go till Midnight(ish). Check out the event page on Facebook – https://fb.me/e/3FMgV0GZd – and let us know you are coming so we can plan accordingly!
Food Features in JJ's Bar plus Lunch?
We are now serving a limited lunch menu Tuesday through Thursday from Noon until 3:00pm. Chicken Salad Croissant Sandwich, a couple of our dips and our pizzas are now available up until 3:00pm. Then we start our full menu! Friday & Saturday we are still offering our full menu starting at noon, plus Kaleb is continuing with offering his Eggs Benedict as a "Breakfast for Lunch" feature, but just on Friday and Saturday! Starting tomorrow (Wednesday), we will have a Bahn Mi Sandwich and a Pulled Pork Sandwich for our featured food items!! See our full menu or order carryout (during regular kitchen ours) at https://order.jjswine.com.
Whiskey Wednesday – Irish Whiskey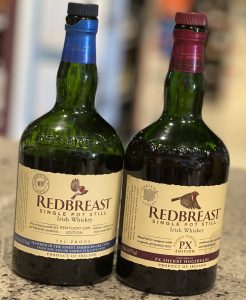 Tomorrow is Wednesday, which means Whisk(e)y Wednesday at JJ's! All spirits are 30% off List Price ALL Day! Plus, we have a pretty sweet feature flight with some new Irish Whiskies from Red Breast! Red Breast 12-Year-Old, Red Breast 12-Year-Old Cask Strength, Red Breast PX Sherry Cask Finish & Red Breast Kentucky Oak Edition.
It wouldn't be Whisk(e)y Wednesday without a bottle raffle! Here is what is up for grabs…
Mitchell & Sons "Blue Spot" 7-Year-Old Cask Strength
Red Breast Kentucky Oak Edition
Buffalo Trace Single Barrel – JJ's 10th Edition
Jacob's Pardon – 2nd Edition
Blanton's Single Barrel Bourbon
Old Ezra 7-Year-Old Bourbon
Ezra Brooks Cask Strength Single Barrel – JJ's 1st Edition
Getting into the raffle is easy and FREE! Be at JJ's Bar by 5:45pm and fill out a ticket! Purchase the feature flight and you can get up to FOUR chances. Purchase any food item and get an extra TWO chances (extra entries go to ONE person or split the two). Whisk(e)y Wednesday is always a good time at JJ's!
Silver Oak Release Event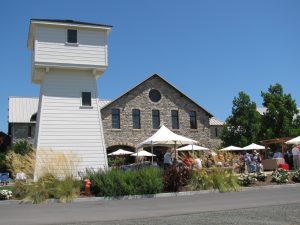 On Wednesday, August 10th, 2022 we will be releasing the 2018 Silver Oak Alexander Valley Cabernet! Every year the wine is released at the winery on the first weekend of August. And every year for the past few, we have been the official launch spot for the state of South Dakota the following week! Here is a link to the event on our website. See more information and purchase tickets – https://jjswine.com/store/6891199/ – I encourage you to purchase your spot soon as we will run out of space! Attendees will be the first to try the new vintage, and more importantly purchase!
Update, this event is filling up fast! I would recommend purchasing a ticket ASAP!
That's it for today! More coming later this week about the Levitt Weekend, our Parking Lot Party and a few other things coming up later this month! Have a great week! Stay cool!