Happy Tuesday! Today is Tuesday, August 9th and I am still riding a bit of a high from the weekend! What an awesome experience on Saturday. And not only because of the largest amount of beverage sales yet at a Levitt concert, but because of what it took to get us there! More on this later, so for now, here's the good stuff…
Cocktails & Cars – Finale!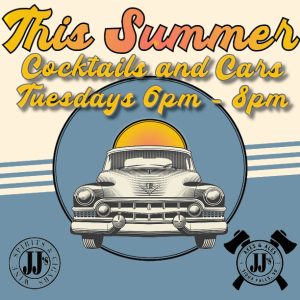 Tonight, is our final Cocktails & Cars Event for the Summer! The last few weeks have been marred with crappy and hot weather, so it hasn't been overly successful, but we plan on having a pretty good turnout tonight, so get your wheels shined up!
We will have the North parking blocked off starting at 4:00pm. Drink and food specials will also start at that time with Buy One Get One half off Signature Cocktails and Draft Beers. We are also offering $2 off all pizzas. At 6:00pm, THE Elisabeth Hunstad will start playing some tunes and we couldn't be more excited about that! She will play until 8:00pm and that's when everything kind of wraps up, but no need to rush away. We stay open until 10:00pm!
We look forward to doing this again next Summer, although it might look a little different. Any feedback you might have would be welcome as we want to make this a summer staple at JJ's!
Whisk(e)y Wednesday – Rum Flight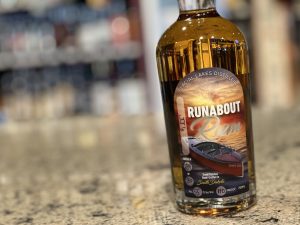 A little different direction for Whisk(e)y Wednesday this week. We are featuring a flight of rum, which we have done before, but it's been a while. We have FOUR rums on the feature flight. Three from Kirk & Sweeney, new to the Sioux Falls area, but long-time favorites of mine. And we are introducing you to South Dakota's FIRST four-year barrel aged rum from Glacial Lakes Distillery. This rum was aged in a JJ's Knob Creek Bourbon barrel that was selected in September of 2017 and filled in February of 2018. It is a delicious rum that really hits all the feels, but it's bottled at cask strength (110 proof) so you get a ton of bourbon oak character. We are excited to bring this collaborative item to you, over four years in the making! Along with the feature flight, we will also have a bottle raffle! The following is up for grabs…
Old Ezra 7-Year-Old Bourbon
Jacob's Pardon Whiskey #2
Colonel EH Taylor Small Batch Bourbon
1792 Full Proof JJ's Single Barrel 8th Edition
Getting into the raffle is easy! Be at JJ's Bar by 5:45pm and sign up! Your first entry is free! You can get up to four entries by purchasing a feature flight, and you can get an additional two entries by purchasing a food item!
Weekend Recap
The emotions that were engaged over the twenty-four hours prior to Janitor Bob taking the stage on Saturday night were a combination of hope, massive anxiety, depression and pure joy. When the weather reports started to look dismal the day before the show, my instincts kicked in to figure out what to do if the show was cancelled. Calls were made. Favors were asked. Friends were made. Friends were annoyed. But in the end, things just kind of worked out.  Including five-plus inches of rain as soon as we locked our doors on Saturday night. How is that for luck?
The team performed exemplary during the course of the concert. If there were any hiccups in the performance of JJ's Levitt team, it's all on me and me alone. We prepared for this weekend like no other, but really had no idea what to expect once the rain stopped and the crowds started to pour into the park. And wow did they pour in. Now, there wasn't quite as many as the week before for Brule, but they were there to party, and indeed they did.
Thank you to Janitor Bob and the Armchair Cowboys for doing this show. I feel that from conversations I had with Martin (Dill) and Patrick (McIntyre), and the excitement they had ahead of Saturday's show, when things finally came together, the whole experience far exceeded their expectations. You guys sounded like you did the first time I heard you when I moved to Sioux Falls in 1994, and the memories that flooded in once the music started were countless.
Thank you to Nancy Halvorsen and the Levitt team for doing what you do best, especially under the circumstances leading up to the show and the unknowns of weather and crowd size. Thank you to the security team at Levitt for helping to wrangle the crowds around our bar a little. Thank you to the food truck neighbors for being patient with the thirsty patrons crowding their area. Thank you to all of our patrons who were patient as we moved people through our bar as fast as possible!
Thank you to our new friends at Black Iron Waffles for feeding my crew at the J-Bob After Party at JJ's. If you see Black Iron Waffles out and about in the community, give them a try! Autumn does an awesome job with a truly unique food truck concept. Thank you to our Chef Kaleb Blue for supplying the nostalgic tunes for the after party and to Chris Hintz from Pinnacle Productions for supplying the gear (also for helping me work through a "Plan B" scenario that was never needed. Thank you to my bartenders at JJ's for working a little extra to make sure our guests and Levitt staff had a great time at our after party!
Lastly, and sorry this is dragging on, thank you to our JJ's Levitt team for really putting it all out there on Saturday! Especially those of you that jumped in headfirst to make the best out of a very complicated situation and made any hiccups largely unnoticeable by most. We really kicked some booty, and all of the credit goes to team.
We have a lot more coming up as we wrap up this Levitt season and proceed into what we call wedding season. Plus a few other things have crept into our schedule that we are extremely excited about and can't wait to share, so stay tuned!
Have a great week!