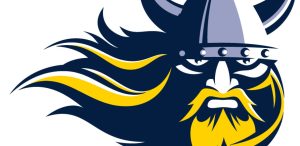 Happy Thursday! We are very excited for another weekend here at JJ's! We are also excited for a lot of very cool things coming up in the next few weeks!
One of those things is Augustana Vikings Football where we will once again be offering a wide array of adult beverages for you to enjoy during the game! We also just received word that you will be able to take your adult beverage back to your reserved seat, instead of being sequestered in our bar area!
This is a big deal for us, Augie and football fans who like to enjoy a cold one while watching the game! Home opener is September 10th, 2022. JJ's Bar at KO Stadium will be open at NOON before each game with Happy Hour until 15 minutes before kickoff!
Woodford Reserve Private Selection Barrel Blend Release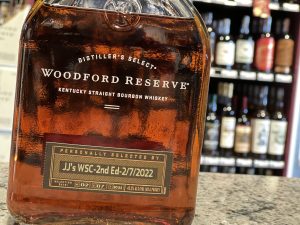 Remember way back in February I took a trip to Kentucky with my good friend Toby? We were joined by Steve & Jason from WoodGrain Brewing to select two barrels of bourbon. The first was a barrel of New Riff which we got in earlier this year and have since sold out. The second was a blend of two barrels that we procured with the help of Assistant Master Distillery, Elizabeth McCaul. This is the second time we have done one of these blends. The first was with Master Distillery, Chris Morris.
The process is pretty cool. We get barrel strength samples from three different barrels and start the process by marrying two of the barrels together. We then marry two other barrels together, then the final combination of two barrels. We taste through the blended concoctions and determine what works best when proofed down to 90.4 proof.
The results of this are pretty amazing. And we now have this unique blend of two barrels available for you to take home. It is branded Woodford Reserve Private Selection – JJ's WSC – 2nd Edition – 02/07/22 and it will go fast! List Price is $69.99/bottle but we are offering it to JJ's VIP customers this weekend for $49.99/bottle! It is also worth 100 allocation points.
If you are looking to boost your allocation points, we have Smooth Ambler Old Scout Single Barrel, Oak & Eden Wheat & Spire Single Barrel, Runabout Rum from Glacial Lakes Single Barrel and of course, our Codigo Anejo Single Barrel. 
What's Going on at JJ's?
This is a sort of a rhetorical question, but also the title of our new Facebook Group! What's Going on at JJ's is a private group that we will be building a community of JJ's fans in an effort to communicate with you a little more consistently on Facebook. The link to join the group is here – https://www.facebook.com/groups/1021080385357821/ – You will be asked a couple of super easy questions, and then welcomed with open arms! So, what is going on at JJ's this weekend?
Thursday – Thursdays have been interesting nights in JJ's Bar. It has kind of turned into a "date night" for a lot of people, with quite a few of you coming in to dine and enjoy a quiet evening on the patio. The weather might be a little less than awesome for patio weather tonight, but it will be perfect for having our garage doors open and enjoying some fresh air!
Kaleb's food features this week include Chicken Wings in a variety of sauce options for $12.95 (8 Wings). He also made some Pork Ramen for the first time, and it is delicious! The Boozy Bakery is also loaded up for your sweet tooth with all of the yummy goodness.

Check out The Boozy Bakery™ | JJ's Wine, Spirits & Cigars (jjswine.com) to see what's available!

Friday – JJ's Bar opens at NOON for lunch or late breakfast. Kaleb's "Breakfast for Lunch" feature this week is Chicken & Waffles! Crispy fried chicken on a tasty waffle with JJ's Bourbon Barrel Aged Maple Syrup.

While here, try one of our Summer Version 2 cocktails. The team put together some really tasty concoctions to finish out the warm weather season. These will be available through mid-September!

It's also Fresh Beer Friday, so ALL of our single cans, bottles and growler fills are 30% off List Price! Joe recently tapped a couple kegs of some nice crispy Pilsners along with our first Oktoberfest keg of the season from Schell's. We will definitely be seeing more Oktoberfest beers on tap in the near future!  See our full list of Draft Beers to Go (or stay) this link, then follow us on UNTAPPD for updates! – Draft Beer To Go – Or Stay! | JJ's Wine, Spirits & Cigars (jjswine.com)

Saturday – Hooray for the weekend! Looks like it's going to be another beautiful Saturday! So, we will definitely have some patio weather, good times, good drinks and great food. As always, if you are looking to spend the day at home, we can get you out the door with your goods super quick.
And if you need a bite to eat, you can order carryout at  JJ's Bar Food – Online Ordering (jjswine.com)

– Or grab a Charcuterie box from our Grab-N-Go case. We have Bento, Small & Medium boxes, serving 1 to up to 8 people! If you want to reserve, or special order a Charcuterie Box, please email

theboozybakery@jjswine.com

– We require at LEAST 72 hours advanced notice.
Lots of fun stuff, but nothing too exciting, which is OK, as the last few weeks have been a little crazy. That being said, if you need your music fix, there is always Levitt at the Falls… We will get back to LIVE music in JJ's Bar Mid-September, so keep your eyes peeled! We are also bringing back our free Wine EXPO on Tuesday, September 6th. We will have about 20-25 wines on display and did I mention it's free!?
Levitt Week 13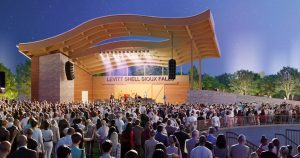 We are winding down our 2022 Levitt season with only twelve shows left for the year! Hard to believe we have made it through the first 37 shows (adult beverage, Levitt team has tallied 41 in total). We are looking forward to an interesting variety of music this weekend. I have listened to demos from all three of these groups, and they are sure to be quite entertaining!
Thursday – Tonight is The Jazzed Up Big Band – https://fb.me/e/29nMs8ase – A 16-piece band formed to bring the most exceptional big band entertainment in the region. The ensemble's home is the Roof Garden Ballroom in Historic Arnolds Park in the heart of the Iowa Great Lakes, which has a rich history of big bands dating back to the golden era of jazz in the 1930's. Duke Ellington, Count Basie, Glenn Miller, Louis Armstrong, Tommy Dorsey, or Jimmy Dorsey all toured the ballrooms of the area.
Friday – Everyday Everybody – https://fb.me/e/6VrRwPiUP – DC-based band Everyday Everybody (fka AZTEC SUN) has been performing since 2012, producing an upbeat, retro groove steeped in '70s funk and soul, jazz, Afro-funk and Motown-era pop.
Saturday – Eliza Blue – https://fb.me/e/3mBNQA7h1 – Eliza Blue is a shepherd, storyteller & folk-singer residing in western South Dakota. In her 15 years as a touring musician, she's had the opportunity to collaborate with Billy Talbot of the band Crazy Horse, Charlie Parr, and Jami Lynn and has performed at SXSW, CMJ, and the Sioux River Folk Fest.
JJ's Bar opens for Happy Hour at the Levitt at 6:00pm before every concert! I know, they say the lawn doesn't open until 6:30, but don't pay attention to that and come out and see us and the fun food trucks before the majority of the crowd shows up! We have the largest array of beverage options you will ever find in this type of setting (that is not an exaggeration) and a happy staff ready and willing to get you served and back to your spot on the lawn ASAP!
Know before you go… JJ's Bar at the Levitt Beverage Menu | JJ's Wine, Spirits & Cigars (jjswine.com) – This link is to our live Levitt menu. All of our beverage options and prices are on here, so you know what to expect when you get to our bar!

Sioux Fall's Local Best
For the Second year in a row, YOU have named us here at JJ's your favorite place to shop for adult beverages! Many thanks to those who voted for us, and even more so for your continued support of our little Mom & Pop shop in south Sioux Falls! See the results here at – The 5 best Beer, Wine & Spirits in Sioux Falls ♥ The Local Best
That's it for this week! Watch the social media channels through the weekend to see what else might pop up at JJ's this weekend! All of the links are below…
Have a great weekend!