Welcome to September! Still feels like Summer, but Fall is coming fast! We are busy getting wrapped up with Levitt season and gearing up for Augie season (Check out this article on GoAugie.com) and also wedding season! Lots of things going on, but first we have Labor Day Weekend!
Looks like the weather is going to be pretty decent. We fully expect most of you to be headed somewhere fun for the weekend, so rest assured we will be ready to get you down the road! If you are sticking around, we will be happy to see you here at JJ's Bar, JJ's Axes & Ales or down at the Levitt! See below for all of the weekend Levitt activity!
If you are popping into JJ's Bar, we will be offering our regular full menu today. But tomorrow and Saturday we will be running smaller menu as our Chef Kaleb will be attending his best friend's wedding in Watertown. Since we are still in search of someone to help him out in our kitchen, "Chef Jill" will be jumping in and preparing small appetizers, pizzas, dips, etc. to keep your appetites happy while you enjoy some tasty cocktails and beers! If you know anyone that is looking for a job cooking, please let them know we are looking!
What's Going on at JJ's?
This is a sort of a rhetorical question, but also the title of our new Facebook Group! What's Going on at JJ's is a private group that we will be building a community of JJ's fans in an effort to communicate with you a little more consistently on Facebook. The link to join the group is here – https://www.facebook.com/groups/1021080385357821/ – You will be asked a couple of super easy questions, and then welcomed with open arms! So, what is going on at JJ's this weekend?
Thursday – Thursdays have been interesting nights in JJ's Bar. It has kind of turned into a "date night" for a lot of people, with quite a few of you coming in to dine and enjoy a quiet evening on the patio. As I mentioned before, we are offering our full menu tonight, but no features. Check out The Boozy Bakery™ | JJ's Wine, Spirits & Cigars (jjswine.com) to see what's available!
Friday – JJ's Bar opens at NOON for lunch. No breakfast for lunch this week as Kaleb is off this weekend. It's also Fresh Beer Friday, so ALL of our single cans, bottles and growler fills are 30% off List Price! Joe just tapped EIGHT new kegs for your glass or your growler. See our full list of Draft Beers to Go (or stay) this link, then follow us on UNTAPPD for updates! – Draft Beer To Go – Or Stay! | JJ's Wine, Spirits & Cigars (jjswine.com)
Saturday – Hooray for the weekend! We will be opening early for a few Jackrabbit fans that want to watch the game vs. Iowa State. Game starts at 11:00am. The kitchen will not open until noon, however. Plus, keep in mind, we will have a smaller menu than usual. It looks like it's going to be a beautiful Saturday! I hope you have great plans for Labor Day Weekend! We will be ready to get you down the road. If you are sticking around, come see us down at The Levitt for Kory & The Fireflies! See below for more on that!
Levitt Week 14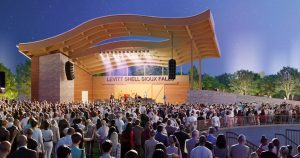 We have SIX more shows left in the 2022 Levitt season! THREE of the shows that I had circled on my calendar at the beginning of the season are still yet to come! One of them is this weekend…
Thursday – Tonight we have another edition of the World Music Genre with the Parranderos Latin Combo – https://fb.me/e/3wqvcGfeB – Parranderos Latin Combo (PLC) is a Des Moines based Latin music band creating and performing original music inspired by salsa, cumbia, son montuno, Afrobeat, plena, vallenato, salsa dura and many more party dance rhythms.
Friday – Making Movies – https://fb.me/e/2IL2BNrFo – Siembra y llegará. As Making Movies delivers its fourth album, XOPA, the Kansas City band proves true the maxim which, in English, is like an encouraging version of "reap what you sow." Making Movies' dynamic sound encompasses the entirety of the Americas: crunching classic rock into Latin American rhythms — African-derived percussion and styles like rumba, merengue, mambo and cumbia — in a way that feels oddly familiar, yet delivers the invigorating chills of hearing something singularly special.
Saturday – Kory & The Fireflies – https://fb.me/e/2xJ7tvGIM – KORY and the FIREFLIES were formed in the summer of '94 and founded by the band's leader, Kory Van Sickle; they have been writing, recording and performing ever since. In the band's 28 years performing, they've released four full length studio CDs, two live DVDs, shared the stage with over 75 national acts and had airplay in all 50 states with their singles, "Sometimes", "Virginia", "Pop Fly", "Everyone", "She's Comin' Back Again" and "Let it Shine!". We will be opening JJ's Bar at the Levitt at 5:30pm (instead of 6:00pm) to get you started!
NEXT WEEK is our final Levitt week and it is all going to start with our dear friend, Miss Elisabeth Hunstad, as the opening act on Thursday, September 8th! We want to pack the Levitt for this particular opening act, so plan accordingly and be on the lawn by 6:30pm at the latest! We have some fun things planned, and you don't want to miss out!
JJ's Bar opens for Happy Hour at the Levitt at 6:00pm (5:30 for the Kory & The Fireflies) before every concert! I know, they say the lawn doesn't open until 6:30, but don't pay attention to that and come out and see us and the fun food trucks before the majority of the crowd shows up! We have the largest array of beverage options you will ever find in this type of setting (that is not an exaggeration) and a happy staff ready and willing to get you served and back to your spot on the lawn ASAP!
Know before you go… JJ's Bar at the Levitt Beverage Menu | JJ's Wine, Spirits & Cigars (jjswine.com) – This link is to our live Levitt menu. All of our beverage options and prices are on here, so you know what to expect when you get to our bar!

Sioux Fall's Local Best
For the Second year in a row, YOU have named us here at JJ's your favorite place to shop for adult beverages! Many thanks to those who voted for us, and even more so for your continued support of our little Mom & Pop shop in south Sioux Falls! See the results here at – The 5 best Beer, Wine & Spirits in Sioux Falls ♥ The Local Best
That's it for this week! Watch the social media channels through the weekend to see what else might pop up at JJ's this weekend! All of the links are below…
Have a great weekend!