Maker's Mark Private Select Barrel – JJ's 3rd Edition
Back in June, when Myself, Tom, Ted and Carrie drove to Kentucky for barrel selections, the second day of our journey was chauffeured. This was great for a variety of reasons, but mostly because I was tired of driving. Our friends at Beam-Suntory hooked us up with a fairly large bus for just the four of us, so we had plenty of room to move around. This transportation was provided by Mint Julep Tours. Definitely the largest tour company in the area, and one of the best.
We completed our selection at Knob Creek first. Had a beverage at the new bar they just built on campus that is complete with a world-class food scene and amazing cocktails. Then we loaded up to head to Makers Mark. This would be my 3rd Private Selection barrel, so I kind of knew what to expect. Boy was I wrong. Some things have changed in the last couple of years.
We used to go into the Maker's 46 caves to do these blends. there is a beautiful tasting room in there that has a view of aging barrels and a very large collection of Private Selection bottles. They keep one for every barrel that is created. This time, after lunch at the on-campus restaurant, also world-class, we loaded up in a golf cart. What? Where are we going?
At the top of the hill above the distillery, there is a reservoir. This reservoir is fed by the aquifer that is used to make Maker's Mark whisky. They built a building on the lake that is now used for this Maker's Mark Private Selection process, and it is magnificent! You immediately feel the comfort of home when you walk in. Which is great, because this process to blend the perfect barrel can be a little intimidating.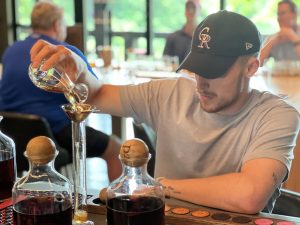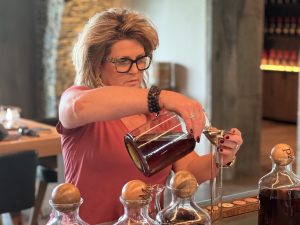 The process itself is fairly simple, but it really goes to the heart of what makes good whisky. Blending. I alluded to this the other day when discussing the Woodford Private Select Barrel. Single Barrels are unique, and we really strive to pick barrels that are tasty AND unique. But blending really gives you a lot more flexibility to craft the perfect libation. There are five different staves that we can use to craft the finish on our Maker's Mark barrel. These staves are different species of oak, and all "seasoned" with different flavors. Baked American Pure, Seared French Cuvee, Maker's Mark 46, Roasted French Mendiant (new), and Toasted French Spice. We would begin the process by selecting the proportions of each finish that we wanted to test first, and then tweak from there. The photos are the mad science portion of the event, and it is pretty cool. Our final blend was 3 Parts Baked American Pure, 3 Parts French Cuvee, 1 Part Roasted French Mendiant and 3 Parts Toasted French Spice.
Side note: When we were sitting around the table discussing our blend, a deer walked up to the lake and started drinking water. Pretty cool that a dear was drinking from the lake that was going to make tasty bourbon.
The whisky we craft is amazing. See tasting notes.
Name: Maker's Mark Private Select Barrel – JJ's 3rd Edition
Country of Origin/Locale: Loretto, KY
Proof: 108.9
Glass: Glencairn or Double Old-Fashioned Glass
Temperature: Room or Slightly Chilled
Cocktail Options: Excellent Old Fashioned or Manhattan Bourbon
Available: JJ's Bar, yes. Retail, yes.
Price: List Price – $89.99 JJ's VIP Price – $71.99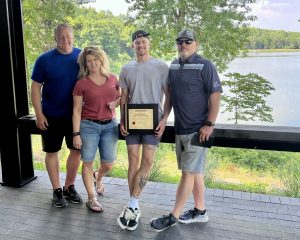 Tom's Tasting Notes: I had a little pour of this whisky last night to refresh my memory on the flavor profile. I was reminded of how well this turned out. Likely up there with one of the best whiskies we have created/selected. The nose is spice, spice and more spice and sweet notes of caramel, toffee and dried fruit. The palate is THICK with a mouth-coating flavors of caramel, burnt toffee, chocolate and dried fruit. The finish is insanely long on this one when consumed neat. Please enjoy our Maker's Mark Private Selection Barrel – JJ's 3rd Edition!