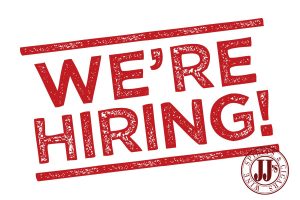 Looking to make a career move or just make a few extra bucks? We have tons of opportunities coming up in 2022 that require a large number of highly motivated individuals! We have openings for the following positions….
Event Servers and Bartenders – We are looking for EXPERIENCED adult beverage servers and bartenders for our event program. These are as-needed roles, so you can work as much or as little as you want! Experience preferred. Pay – $18-30/hour depending on the event and gratuity. Average is around $26/hour. MUST BE 21 years old.
Retail Clerks – Parttime retail clerks are needed ASAP! MUST be able to work evenings and weekends and must be able to lift over 40 pounds from overhead. Flexible schedule is offered. Pay – $14-17/hour depending on experience. MUST BE 21 years old.
JJ's Bar Servers/Bartenders – Why do one when you can do both? JJ's Bar is in need of highly motivated individuals who are wanting to work with a team to enhance the eating and drinking experience in JJ's Bar! No experience necessary, just a desire to learn the art of creating craft cocktails and develop relationships with our largely neighborhood, and growing, clientele. Must be able to work nights and weekends. MUST BE 21 or older. Pay – Base $9/hour plus tips with an average wage of $25-30/hour (including tips). We also close relatively early, so no late nights!
Axe-perts/Beertenders JJ's Axes & Ales – As JJ's Axes & Ales continues to grow, we are looking for more people to join our team as Axe-perts (Axe throwing coaches) and Beertenders. No experience required, just a desire to work with a team and make some cash! MUST BE 21 or older and willing to work nights and weekends. Pay – $9/hour plus tips with a guaranteed wage of $16/hour. Most axe-perts average $18-23/hour during shifts.
Sous Chef in JJ's Bar – This is an excellent opportunity to learn from one of the best in the biz, Chef Kaleb Blue!

Experience: We are looking for someone who has a minimum 3 years of kitchen experience
(small to medium volume restaurant with an a la minute cooking is best) or someone who is
classically trained.
Job Description: The Sous Chef will be in charge of maintaining proper workflow in the JJ's
kitchen whether it be food prep, cooking on the line, cleaning at the end of the night or cleaning
your area after food prep as well keeping our equipment and appliances in clean and working
condition, learning to order and upkeep inventory on our food items, and taking lead of the
kitchen if the head chef is gone. The Sous Chef position will also take part in the creation of
weekly and seasonal features as well as the recipes.
Hours: The hours of this position will vary as we develop and become a bigger food program but
will be centered around the hours of 2:30pm-10:30pm. 40 hours a week minimum up to 45 on
busier weeks and event weeks.
Pay: Wage for this position will be determined by experience – $17 to $22/hr range.
JJ's is a family-owned, equal opportunity employer in business for over twenty years and growing! We offer the most competitive wages and quality of life benefits in the industry within the Sioux Falls community. We also have a lot of fun! If any of the positions above interest you, please click here – JJ's JOB APPLICATION – and DROP OFF THE APPLICATION IN PERSON at JJ's Wine, Spirits & Cigars – 3000 W. 57th St, Sioux Falls. Email applications WILL NOT BE accepted, unless you are relocating.