Rockfilter "Fence Jumper" Organic Bourbon Whiskey
Sometimes the strangest things happen at trade shows. You meet new people. You try new things. You have engaging conversations and you start the process of developing a relationship that will undoubtedly have some significance in the near future.
Back in October, Myself, Ted, Joe and Carrie took a trip to the Twin Cities. The purpose of this trip was to build a barrel of whiskey at a Minneapolis distillery. While there, we were invited to a trade show by our friends at Small Lots. One of our newer wholesale partners that bases out of Minneapolis. We have been getting some pretty cool stuff from them throughout 2022, so we were excited to see what else they had to offer.
It was a very large trade show. Tons of domestic wines (brands like Recoltant, Le Piche, Covert and Keever) and import wines. Plus, they also had a number of spirits brands that they represent in Minnesota but had not pulled the trigger at that time to send to South Dakota. We were encouraged by one of our hosts, Joel, to have a conversation with Christian, Founder and Owner of Rockfilter Distillery out of Spring Grove Minnesota.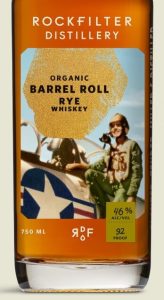 The conversation went in a number of different directions. Mostly pertaining to their operation (organic, farm to bottle, small batches), but also dove into their family history and the farm, partly due to the striking images on the labels of all of their bottles. All of the images on their bottles are old family photographs. They looked somewhat surreal at first, but then as I looked closer, I could tell that they were deeply personal to the family. And I was right. All of the images were actual family photos taken over the years that were incorporated into their labeling and branding. One stood out in particular. It was an image of Christian's father next to a mid-century era fighter plane. When I asked about the image. and the plane, Christian said, "That's my Dad! He was a fighter pilot." I then also came to find out during the course of that conversation, that Christian was also a Navy fighter pilot (still flies privately). So now my excitement about the aviation world kind of took over the conversation. It was awesome.
The end of the story is not even close to being written yet. We are slated to pick a barrel of the Rockfilter Fence Jumber Organic Bourbon and had hoped to get it done before the release of this countdown calendar. But, like a lot of things in this industry, stuff has just gotten in the way, and we haven't been able to make the trek to Spring Grove to get that done. It is very high on the priority list to do just that and collaborate on a few other projects as well. Stay tuned.
Name: Rockfilter Fence Jumper Bourbon Whiskey
Country of Origin/Locale: Spring Grove, MN
Proof: 92.0
Glass: Double Old-Fashioned Glass or Glencairn
Temperature: Room, or with ice. Try it at room first
Cocktail Options: Old Fashioned, Manhattan or any other bourbon cocktail
Available: Yes. Retail and in JJ's Bar
Price: List Price – $124.99 JJ's VIP Price – $99.99 ($87.49 if you stop in today for Whisk(e)y Wednesday!)
Tom's Tasting Notes: We often dismiss, all too quickly, a lot of the smaller craft distilleries that are popping up, largely because most of them don't make anything, they just buy it and brand it. Or just buy it and "finish it", then brand it. What I like most about Rockfilter is the story and the dedication to the craft of not only producing their own whiskey, but growing a majority of the components themselves. It certainly makes a difference in the overall quality of the product, when it is done right. Fence Jumper literally jumped out of the glass and smacked me in the right senses. On the nose you get smoked cherry, roasted nuts and thick caramel. On the palate there is a distinct, and pleasing, grain-forward flavor combined with sweet caramel, smoke and a spicy lingering finish.
Livingston Honey Project
Kind of a sidebar to this write-up is a project we have been working on with a group from Brooking, SD that makes honey. Livingston Honey has been producing and marketing their honey for some time now, and we found out about them earlier this year while Joe was doing some research for a barrel-aged honey project we are working on. One of the key components to this project is a smaller barrel to age it in. The Rockfilter Fence Jumper Organic Bourbon is aged in 15-gallon barrels, so it will work perfect for our honey project. Once we get the selection done. We currently sell the Livingston Honey at JJ's. If you are a fan of straight-from-the-source honey, you should really snag some of this stuff. It's quite good.